Managing school budgets is a critical challenge for independent schools in Australia's rapidly changing economic landscape.
Funding uncertainties and changing educational needs are this year's major influencers on school budget season, and with ongoing economic changes, what are some of the key factors that schools are considering to keep their budgets on track in today's uncertain climate?
Strap in as we take you on a high-speed journey through the ups and downs of school budgeting.
The Impact of Economic Twists and Turns
As mentioned above, the Australian economy has recently seen its share of ups and downs, influenced by global economic conditions, natural disasters, and the COVID-19 pandemic. These unforeseen events have significant ramifications for independent schools across the country.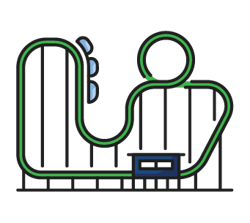 Government Funding Ups and Downs
One of the key income sources for independent schools is government funding. Schools receive financial contributions from both federal and state Government bodies, with amounts varying from state to state under different laws and policies. The level of funding also fluctuates due to the Schooling Resource Standard (SRS). According to the Department of Education, the SRS is an estimate of how much total public funding a school requires to meet its students' educational needs. This calculation is done annually and consists of an SRS base amount and additional loadings.
Government funding is also highly susceptible to changes in economic conditions, government priorities, and the introduction of new laws and policies. For example, earlier this year, the Victorian State Government introduced a payroll tax on non-government schools that earn over a certain threshold per student.
As Independent Schools Victoria Chief Executive, Michelle Green, stated for The Educator, "Schools that thought that they had clarity about whether they are on or off the tax list have had that certainty swept away." The announcement came right as schools began making budget decisions – throwing them for a loop at a time when they should have been locking in their plans for the new year.
Tuition Fee Challenges
Aside from government funding, tuition and related school fees are the other primary sources of income for independent schools in Australia.
This is the area that schools have the most control over, and, as researched by Edstart, many schools have begun to look at increased tuition fees as a way to combat higher operational costs. However, just as schools now face larger bills for energy, equipment, wages, building projects and maintenance, rising inflation has also impacted parents, who are now additionally facing increased fees so that schools can meet these new financial demands.
Combined with inflation and other cost of living pressures, how are families and parents taking the increase in school tuition?
Enrolment and Student Population
While increasing school fees to accommodate amplified operational costs may be a solution, it may also have a negative effect on your family and student community. Edstart states that "a higher fee increase may not help schools offset higher operating costs if families are forced to a lower fee school."
Families may be forced to review their budgets and schooling options to relieve financial pressures, which may result in having to find alternative, cheaper schooling arrangements. This review of schooling arrangements poses a financial risk to schools from both a student retention and future enrolment perspective.
In summary, the impact of economic uncertainty on independent schools in Australia is multifaceted. It affects government funding, tuition fees, donations, enrolments, and operational costs.
As a result, schools must engage in careful financial planning, adapt their budgeting strategies, and make difficult decisions to ensure the continued provision of quality education despite economic challenges.
Check out our recent blog on Balancing School Budgets and School Fee Stress for more information.
Budgeting Strategies
Financial Reserves
Financial reserves are a vital safety net for schools in times of economic uncertainty. Somerset Education utilises a dam analogy to visualise these financial reserves.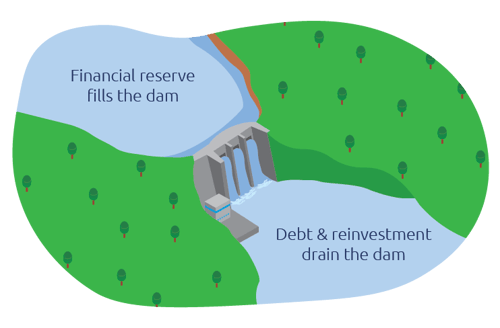 A school's financial reserve fills the dam, whilst factors such as servicing debt and reinvestment drain the dam.
Financial reserves allow schools to bridge budget gaps caused by unforeseen circumstances, so schools must find the balance between having an appropriate reserve and addressing immediate operational needs.
Somerset Education's Financial Survey for Schools has been operating for over 25 years, with roughly 700 schools participating. With so much financial data collected, schools can compare how they benchmark with others across the county. Click here to learn more about Somerset Education and how their Financial Survey for Schools helps schools govern confidently and reduce financial worries.
Cost Management
As the cost of education continues to increase, finding areas where schools can cut back on costs while maintaining the same level of education can seem like a mammoth task. Some methods of cutting costs can also seem counterintuitive, as they may initially have an upfront fee but will save your school substantial time and money down the track.
As every school is different, it is important to investigate the range of ways schools are lowering their costs to see what will best work within your school. With this in mind, we have compiled a short list of some practical cost management ideas to get you started: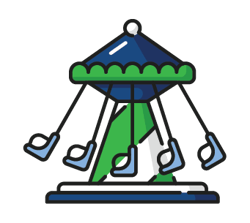 Workflows & Automation
Automating tasks and taking advantage of digital workflows is becoming increasingly popular in schools, highlighting the need to simplify day-to-day business operations.
As discussed in one of our previous blogs, the most obvious and important benefits of workflows and automation are the time and resources they can save. The best way to visualise the actual cost of time is with a cost-benefit analysis. Here's a typical example illustrating the leave application process, highlighting the differences in processing time and costs between manual and automatic methods.
Process

Manual Processing

Automatic Processing

Number of FTE to take a Leave Application from initiation to completion

3
(employee, supervisor, payroll officer)

3
(employee, supervisor, payroll officer)

Time it takes for employee to prepare a leave application

(find application form, check entitlements, calendar etc.)

15 mins

3 mins

Time it takes for supervisor/manager to approve each Leave Application

(check staff availability, calendar, sign etc.)

10 mins

3 mins

Time it takes for a Payroll Officer to process a Leave Application

(check entitlements)

10 mins

3 mins

Number of Leave Applications processed each year

100

100

Volume of paper used

100 x $0.0094

N/A

Average employee hourly rate

$50

$50

Cost of Processing

$2,923.44

$751.50
So many other areas of school day-to-day operations can be simplified with automation and workflows, ultimately saving your school time and money. For more information on how a system like TASS can save your school time and money with automation, check out our previous blog.
Energy Efficient Technologies
Many schools nationwide are now investing in different energy-efficient technologies or renewable energy, from LED lighting to solar panels and other efficiency initiatives.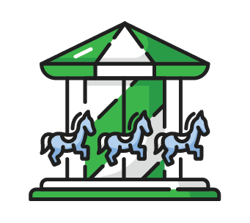 While some of these energy-efficient technologies will have upfront costs, they will ultimately save your school money down the track. Alongside the money your school could save, it also opens the opportunity to educate students on clean energy practices. Programs such as Solar Schools utilise real-time energy data captured by your school combined with educational resources to educate students on clean energy and create positive change. Starting in 2004, Solar Schools claim that their members have avoided almost 13 million tonnes of CO2 from being released into the atmosphere.
Strategic Capital Expenditures
Evaluating capital expenditures is important for schools looking for long-term benefits and cost-effectiveness. When you think about capital expenditure for schools, things like building plans and major works come to mind, and according to Independent Schools Australia, a majority of capital expenditure for independent schools is just that.
New buildings and major works are complex and lengthy projects, so looking at the other end of the spectrum at "smaller" and more achievable projects is essential. Your school's software ecosystem is something that costs money every year, but have you structured it in a way that is both cost-effective and time-efficient?
Compared to on-premises servers, hosting your School Management System in the cloud is both cost-effective and time-efficient. As a subscription, cloud hosting can be a cost-cutting strategy and shifts expenses from being classified as 'capital' to 'operating'. Additionally, the time IT departments spend managing and maintaining server infrastructure is alleviated. For more information on cloud hosting vs. on-premises servers, check out one of our previous blogs.
As you can see, independent schools in Australia are facing significant challenges in managing budgets amidst the current economic climate. Schools can ensure financial sustainability by strategically creating and maintaining financial reserves through considered capital deployment and implementing short and long-term cost-saving measures while providing quality education.