Parents and families are finding it increasingly difficult to manage rising cost of living expenses, given the current rate of inflation.
At the same time, many schools are dealing with their own budget pressures. Balancing rising operational costs with the desire to support families doing it tough can leave some schools stuck between a rock and a hard place.
Edstart, one of our latest integration partners, performs annual research into non-Government school fees and Australian household income. We've pulled together their latest market information alongside our industry knowledge to build some key considerations for handling this changing financial landscape.
Read on to ensure your school is making informed, market-driven decisions about your budget and business strategy.
What's Impacting School Budgets?
2023 has brought a unique combination of challenges to schools. As Edstart's recent research shows:
"With inflation running above 7%, schools have faced significant increases to their input costs, particularly in relation to facility maintenance and construction. Increases to teacher salaries, which represent the largest portion of expenses for schools, have also contributed to a material increase in operating costs. A majority of schools have told us that fee increases won't fully cover the additional costs incurred by the school." (Edstart School Fees Report, page 2)
The impact of a national teacher shortage, on top of increasing pressure to remain competitive with facility and resource offerings at other schools, has led to increased spending in two key areas:
Staffing
Staffing is undoubtedly an issue that's front of mind for many schools, with recruitment challenges felt across Australia.
Recent research indicates that 59% of Australian teachers are thinking of leaving the profession, whilst demand for secondary teachers is expected to exceed the number of newly graduating teachers by over 4000 before 2025. (Department of Education, page 3)
Knowing this, it's not surprising that recruitment is one of the biggest issues currently faced by schools, and dealing with this challenge isn't cheap.
Paid job ads and external recruitment services are some of the most obvious costs of recruitment, with a single job ad for a teacher on one of Australia's largest online job boards, Seek, starting from $245 to $305 per listing (as of February 2023).
Expanding your reach to other websites or engaging a third-party recruiter comes with an even heftier price tag, with a typical recruiter fee ranging anywhere from $5,000 to $25,000 per hire. (TalentVine, How Expensive Are Recruitment Agency Fees?)
There's also the more 'invisible' cost of the time it takes your existing staff to post jobs, search through applications, conduct interviews, and undertake all of the due diligence required for schools to maintain compliance.
That's on top of the secondary costs associated with having an empty position, with schools often forced to pay a higher rate for short-term contracts or relief teachers, which can greatly add up over time.
However, job boards aren't the only place where schools are competing.
Facilities & Offerings
In a recent survey by NAB, researchers found that 1 in 3 families with a student at an independent school were considering a change of school or had recently transferred. When asked why, 28% of families listed "quality of school facilities" in their top 5 reasons – much higher than seemingly key factors like subject choice or academic performance.
As schools continue to expand and improve, it's become a much more competitive landscape for potential enrolments, and schools are spending significant amounts to keep ahead of the curve when it comes to facilities, resources, and other offerings.
Add the need for enough classrooms to match rising enrolment numbers, plus recently established best practice for things like airflow and ventilation, which was pushed to the top of many schools' lists due to the pandemic, and it's no surprise that construction and renovation costs are weighing heavily on school budgets.
Given these challenges, how are schools handling their fee changes, and how is that impacting the families of current students?
Handling School Fees
Schools aren't the only ones feeling the pinch, with rising inflation and cost of living expenses impacting families across Australia.
According to Edstart's findings, this was a key consideration for schools when setting their fees for the 2023 academic year.
"Many schools have recognised the cost of living pressures on families and have chosen to minimise fee increases where possible with the average school fee increase well below the current inflation rate. We found that 85% of schools increased their fees below inflation, which is up from 56% in 2022." (Edstart School Fees Report, page 2)
As they noted, however, each school is managing a range of factors that impact their finances, and have vastly different demographics to consider when it comes to their unique parent communities.
With this in mind, how does your school compare against the averages below?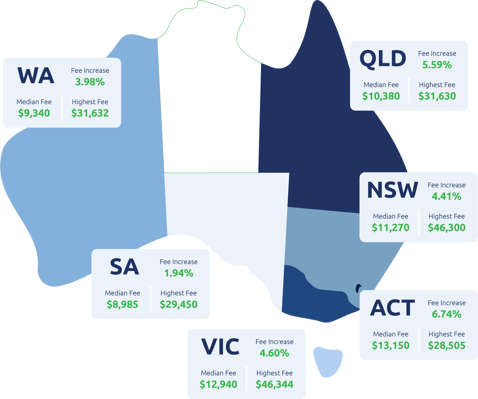 Overall, South Australian schools increased their fees by the smallest average percentage, at just 1.94%, and also charged the lowest median fee in the country.
Despite having the lowest maximum school fee, ACT has topped the charts with a 6.74% average annual increase, and the highest median fee when compared against the other states/territories.
However, the biggest increase for a single region was seen in Brisbane, where fees increased by an average of 8.19% - followed by the nearby Moreton Bay region at 6.85%.
FEE INCREASE PER STATE (METRO VS REGIONAL)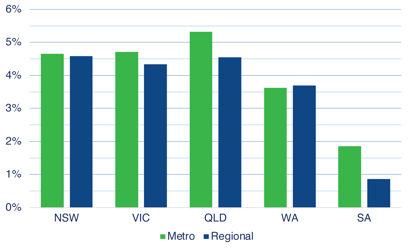 Overall, fees increased at similar rates for metro and regional Australia, with the exception of South Australia. Fees in metro areas in this state increased at twice the rate of regional schools.
Further analysis of these results, including a breakdown of fees per region and for different school types, is available in the full Edstart School Fees Report.
School Fees and Parents
Whilst it's beneficial to compare your school's fees with industry averages, it's also important to consider how your fees impact your parent community.
In the NAB survey on reasons for switching schools, 39% of respondents put finance-related reasons in their top 5, representing a combined total from fee increases, COVID impacts, and general financial reasons (other).
WHY DID RESPONDENTS CHANGE OR CONSIDER CHANGING SCHOOLS?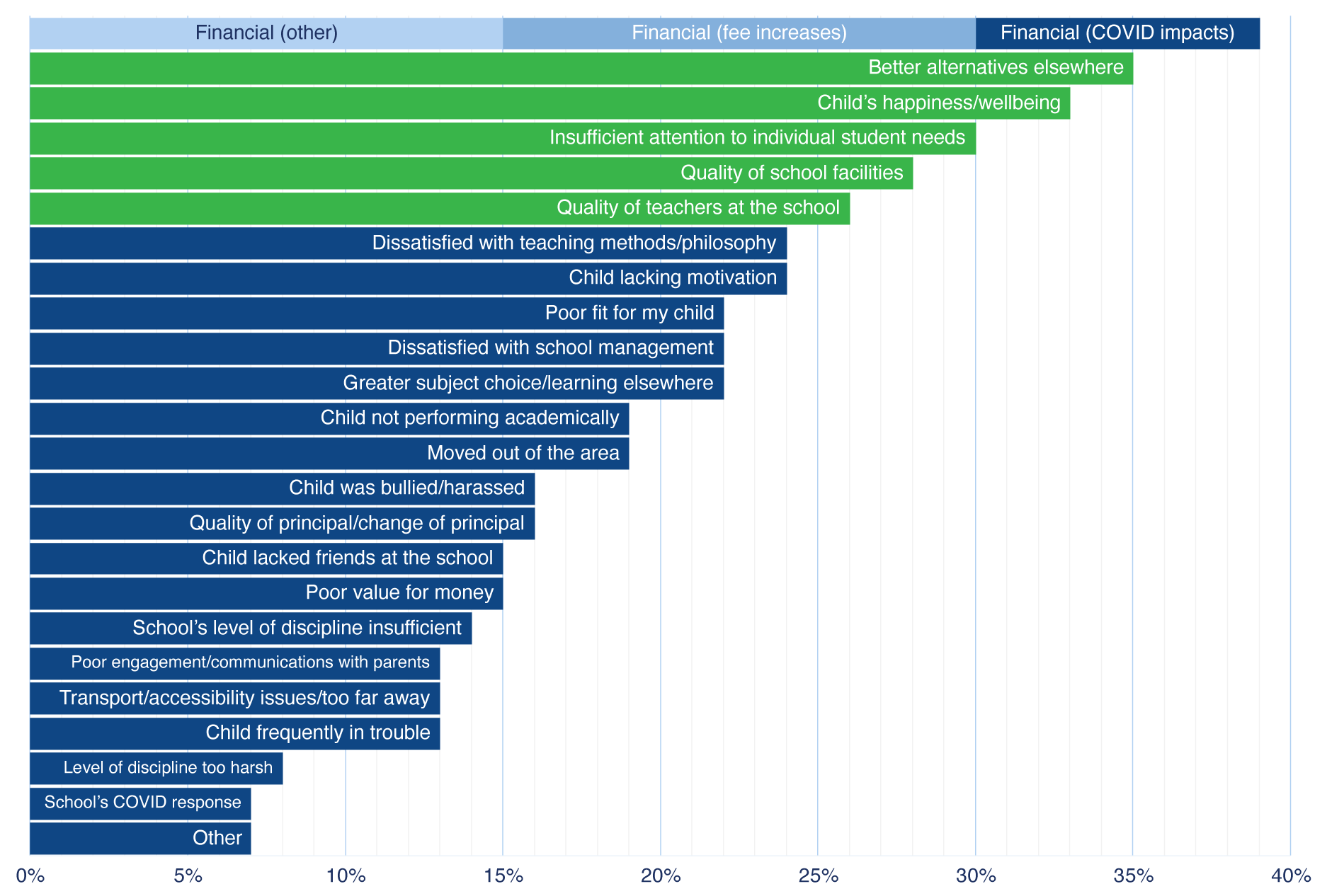 That's a big impact – but it doesn't mean schools should start a 'race to the bottom' by competing on pricing alone. Instead, the top 5 individual reasons give some insight into what many parents value most.
Showing value
Parents aren't at school day-in and day-out, and can ultimately only know what their child's school day is like based on what their child, or the school, shares with them.
This makes it difficult for parents to tell the true value of their child's education, outside of small windows into their school life such as report cards or parent-teacher interviews.
This can cause issues when fees don't match up with your school's perceived value to parents, and can make it much harder for them to accept rising school fees.
Fortunately, there are a number of things that could improve perceived value – starting with increasing communication to keep parents up to date on school activities. This can help keep your school front of mind, and allows you to more frequently reinforce the benefits of keeping their child enrolled.
We've put together more advice in our blog on getting your parent community engaged in school.
Payment Options
Whether parents are aware of the value they're getting from fees or not, it can be hard for parents to deal with fee increases if they are dealing with budget pressure of their own.
To help with this, many schools will offer payment plans to spread school fees out over the course of the year, and make it more affordable to parents.
Unfortunately, this can exasperate pressures on school budgets, as it means that payments trickle in inconsistently over the year rather than a lump sum at the beginning.
There's also the often-forgotten cost of staff time when schools manage their own payment plans, as admin staff take on the burden of missed payment reminders and managing plan adjustments. This labour and time-intensive work takes up resources that could be better used on other projects.
A fee management and payment plan solution like Edstart Plus can help with this; allowing parents to better align school fee payments with their budget, without negatively impacting school funds or the parents' payment experience.
With Edstart Plus, schools are paid fees upfront, and parents make regular payments directly to Edstart. This provides schools with stable and predictable cash flow, whilst streamlining what can be a cumbersome fee collection process.
Click here to learn more about their offering, and how they integrate with the TASS suite.
Ultimately, there's no magical solution to make necessary fee increases more palatable to parents. However, offering more flexible payment options can make it easier for parents trying to balance their own budgets.
At the same time, ensuring that parents understand the reasons behind any changes, and can truly see the benefits that your school is providing to their children, could make a huge difference in how they perceive the value of your school's fees.