Today marks the 10 year anniversary of our amazing Software Tester, Peter Ripper. Pete has not only been crucial to providing cutting edge software solutions over the years, but is an integral part of the TASS lifestyle and culture. His friendly smile and chats can always be relied on to brighten anyone's day, and his booming laugh can often be heard throughout the TASS office.
To celebrate Peter's incredible contribution, we took a look back at his time at TASS over the past 10 years.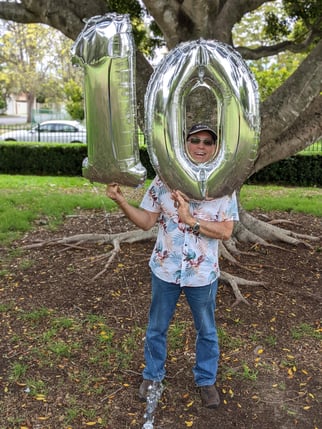 While Pete started his career with a degree in biology, wrestling crocodiles in the NT, he's spent the past 10 years putting his unique set of skills to work as a software testing champion. When he started at TASS in November 2011 we were just a small privately-owned company, but as the business has grown he's continued to ensure that the TASS software is always up to par before being deployed to our users.
Pete has seen a lot of change over the past decade, the most noteworthily being the massive growth and maturity the company saw after its acquisition in 2016.
"Since TASS' acquisition by Volaris it has become an amazingly customer-focused and progressive company," Pete recalls. "TASS' outward-facing persona is now a true reflection of the dedication I had observed when I joined the company in 2011. Marketing image, Customer Focus Groups, installations in the Cloud and collaboration with other providers have all been embraced and mastered by TASS in just five short years."


Over the years, Pete has worn many hats and worked on countless projects. However, when asked about his proudest achievement, he mentioned that "being involved in onboarding and training new team members has been one of the most rewarding experiences since joining TASS."

Pete has onboarded countless new dev team members and interns over the years and continues to be a source of guidance and mentorship to this day.
"It's great to see people grow and become the repository of knowledge that is the company and its culture. I am pleased to have been able to contribute to that, even if it's only in a small way."


When asked about his favourite thing about working at TASS, Pete said it all came down to the people he works with.
"There is a great sense of caring and understanding in the team, also wonderful spontaneous humour which I find amazing considering our varied backgrounds. It all makes for a very productive and rewarding environment."
Brad Fleming, Development Manager at TASS, perfectly sums up what it's like to work with Pete;
"Pete has always been a source of positivity, enthusiasm and humour in our team. His hard work over the years and contributions to product quality and design is something the whole company thanks him for!"


When reflecting on his 10-year commitment to the company, Pete mentioned;
"[When I started], there was a solid core of amazingly dedicated employees who are mostly still with the company today. They gave me hope that I could be part of TASS's journey into the future."
Well, it's safe to say that Pete has not only been a part of TASS' journey into the future but has been an integral part of our success. Thank you, Peter, for your incredible contribution; we are looking forward to many more years with you!