It's that time of year again – when schools are preparing to open their doors. 
Open Days are undeniably one of the best marketing tools a school has. They are a chance to show off your selling points, engage your community and drive enrolments.
However, there's a lot more to Open Day than just student showcases and guided tours. Here are some things you should consider before, during and after your Open Day to ensure you get the most out of the experience.
Before Open Day
As with any event, pre-event marketing activities are key to its success. So, step one is to get the word out.
Many schools use billboards and mail outs to let the community know that they are open - but how do you ensure that your approach is strategic and informed? By leveraging the data you already have.
Using address data is a great way to optimise your marketing efforts and inform your advertising strategy.
By taking a deep dive into your existing enrolled student data, you can gain insight into your target audience, analyse marketing activity and create location-specific campaigns.
If analysing data sounds like a nightmare to you, then maybe a visual approach is better suited. Some address tools allow you to visualise your data using geocoding. So, you can clearly see which locations drive more enrolments than others.
Learn more about address validation and heat mapping.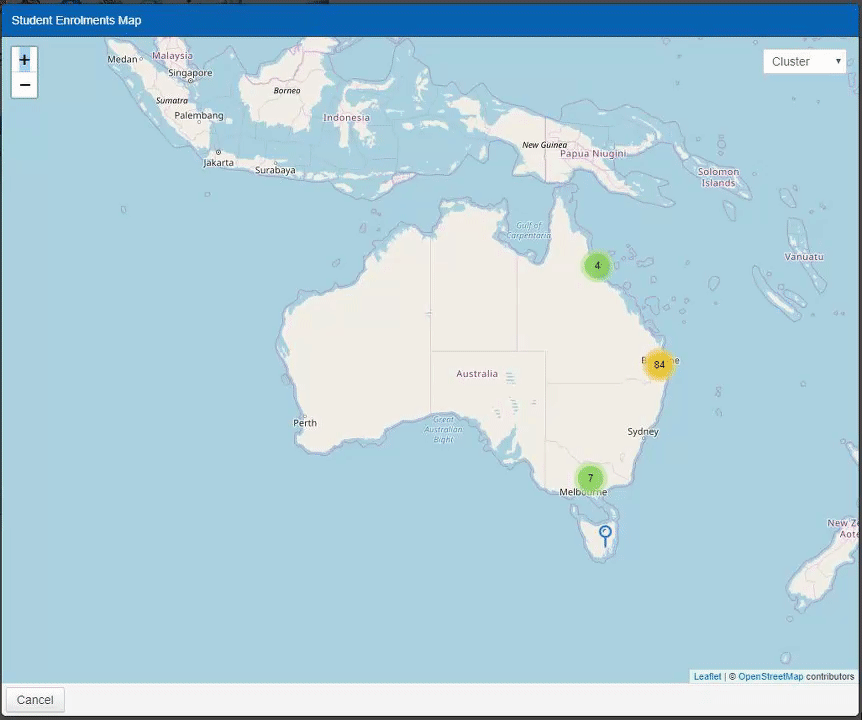 Heat Mapping Software
If you have ever used a "How did you hear about us?" form field, now is the perfect time to dive into those responses as well. This information is crucial to gather whenever possible, as it can be used to inform you marketing strategy.
These insights help your school's marketing team make informed decisions regarding Open Day advertisements, such as billboards, street banners, mail outs and even localised Google Ads. This allows you to make effective use of your marketing budget and improve the quality of your Open Day leads.
In the weeks leading up to the event, ensure you are sharing valuable updates and reminders via email, social media, and your school's website. Get people excited by giving them early access to resources that will be handed out on the day, such as an agenda, tour guide or map with activities marked on it.
When disseminating this information, it may also be a good idea to share your COVID Safe plan to reassure visitors that proper precautions will be taken to ensure their safety.
On the day 
The big day is here. Booths are set up, tour guides are waiting patiently, and a host of prospective families are getting ready to evaluate your school.  You've been planning this event for months and in a few hours it will all be over - so, how do you make the hours count?
Seeing the school facilities in person is undoubtedly one of the most beneficial experiences for parents and potential students on Open Days.
The easiest way to ensure visitors get a good look at all your facilities is by strategically placing activities throughout the school - not just in one common area - to invite them to walk through the grounds. Ensure that all your facilities are accessible, clearly signed and that students and staff are wearing uniforms/ name tags and are ready to help and answer questions.
Ideally, common areas should be used to drive enrolments by building easily accessible and highly visible booths or dedicated spaces where parents can submit expressions of interest or ask questions about the enrolment process.
So, your facilities are all organised and on display - but what about those who are unable to make it on the day, such as regional or international students and their families?
Consider running a parallel 'virtual Open Day' alongside your in-person Open Day for people to connect to online. You may wish to run things like virtual tours of your facilities, live streams of any speeches/ seminars and one-on-one meetings with teachers and department heads, so they have an opportunity to ask questions.
A virtual tour also comes with the added benefit of collecting data/ contact information for follow-up emails and future marketing opportunities.
Post-Open Day
Schools invest a lot of time, resources and effort into the planning, promotion and execution of their Open Days, so it is equally as important to take steps post-Open Day to keep your school at the front of your prospective families' minds.
Once Open Day is wrapped up, consider sending your attendees a follow-up email thanking them for attending and directing them 'where to next'. This email could be the first in a lead nurturing email campaign.
Lead nurture campaigns maintain brand awareness and are a great way to reiterate your school's unique selling points, establish trust and keep parents informed with what's going on around your school.
Each email should have a specific purpose or goal; look for ways to keep them engaged in the community, such as inviting them to induction days, charity events or extra curricular events.
It's also a good idea to hold a meeting with your event organisers and key stakeholders in the days following Open Day. This gives you an opportunity to review how things went, gain feedback and look at how you can improve your event in the years to come.
Overall, Open Day is what you make of it. If you leverage your data, make informed marketing decisions and communicate efficiently, you are bound to make the absolute most out of the experience.