After 25 years, one of our beloved Directors, Alan Nowland has stepped back from his leadership role to take a well-deserved break and enjoy the finer things in life.
To celebrate Al's amazing contribution, we take a look back at his time at TASS – from "dark screen" days to ultra-high definition, wireless and handheld devices.
Alan was introduced to TASS in 1995 when working at Clayfield College - where he was tasked with finding the school a new software system.
Through his research a Brisbane-based software company, then known as Alpha Business Systems (now known as 'the alpha school system' or TASS) came across his desk ... and well the rest is history.
Al started with the company in the same year, in the days of floppy discs and chunky desktops computers, quickly rising to become a Director in November 1999. Since then, he has been fortunate enough to see some great evolutions in technology and education.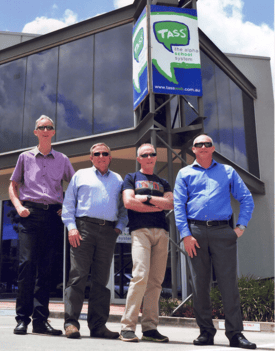 Alan Nowland, David Beaumont, Ken Reid, Craig McAlister, the original directors/owners of TASS (2016)
"I started at the end of the pre-internet and early personal computer era. The internet and web-based technologies have advanced massively since the early 2000's, when we [TASS] were developing our first web product."
Alan marks his involvement in the development of TASS.web as a noteworthy accomplishment during his time at TASS. Managing Director, Craig McAlister sums up Alan's effort on the project.
"Although Alan has managed many departments within the TASS business successfully since 1995, it was when he took the lead of product design for the TASS.web re-platform project in 2003 that he really found his niche.  Alan's talents and natural ability for designing intuitive software really shined through."
Craig goes on to describe Alan as someone with very high integrity. 
"If you're going to team up with anyone within business, then Alan is the type of person you'd want.  Not only does Alan have high integrity, but he also has excellent self-discipline and task management skills.  If Alan says he will do something by a certain date, then he will do it. To wrap these essential business skills, Alan's personality is one of humility, humbleness and having great respect for others."
When asked about the future of TASS, Al says he's confident that TASS is in good hands.
"The march of technology will continue and perhaps accelerate - this presents opportunities and challenges but I'm very confident in the current TASS leadership and their teams to maintain and advance TASS' reputation as the premium SIS solution on the market."
Al says it all comes down to the people you work with.
"It's been a rewarding career for me over the last 25 years. I really connected with the culture early on and I've been fortunate to have worked alongside talented people during this time. It is the people who have made the difference and always will!"
The TASS team is lucky to have been guided into this new age by such a great leader. Sales & Marketing Manager, Kate Damant sums up how the entire TASS team feel about Al's departure from management.
"Al's absence will be felt by all of us. His insight, support and guidance as a leader and mentor will be greatly missed".
Al will be taking some time off to travel (and cycle) returning to TASS part-time in a non-management role for (we hope) a little while yet.